Just as we have made a list of the best barber schools in New York City, we have also compiled another great list of the best barber schools in the US, which you might be pleased to see.
The United States (US) is one of the best countries with an excellent education record. It has numerous institutions that are well recognized among the best in the world, with standard buildings and equipped learning facilities for all admitted students.
Why Study Barbering Course in the US?
Studying in the US gives you an extensive range of opportunities, ranging from a good learning environment and facilities to learning from top professionals who will guide you greatly in your field of passion.
In addition, when you study in any great institution in the United States of America, you get the opportunity to meet and mingle with people who have the same passion as you and have higher chances of getting a job after graduation.
However, a barbering job is a continuous work that doesn't have a season or end because people cut and style their hair daily. We have people who visit the barbering shops almost every week, while others twice a week, making barbering a great career path that needs quality education to perfect you.
Lastly, studying a barbering course in any of the best barber schools in the USA offers you many opportunities. When you graduate, you will be offered a certificate that qualifies you to work. Most customers and new people will trust to let you work on their hair because you have a certificate that qualifies you to be suitable for the job, and the certificate also shows you are well educated in that work.
Skills Needed to Become A Professional Barber
To become a professional barber, you need some skills, and those essential skills are listed below.
You need customer service skills.
An active listening skill.
You should have time management skills to be able to attend to numerous customers that will be waiting.
Hand-eye coordination.
Hair knowledge skill is also required
Creativity is one of the utmost skills required as well.
Interpersonal skills and
Communication.
Best Barber Schools in the US
Although we have numerous barber schools in the US, below are our selected best out of the best. Look at the most outstanding barber colleges in the US and other handy information you might love to know about those schools.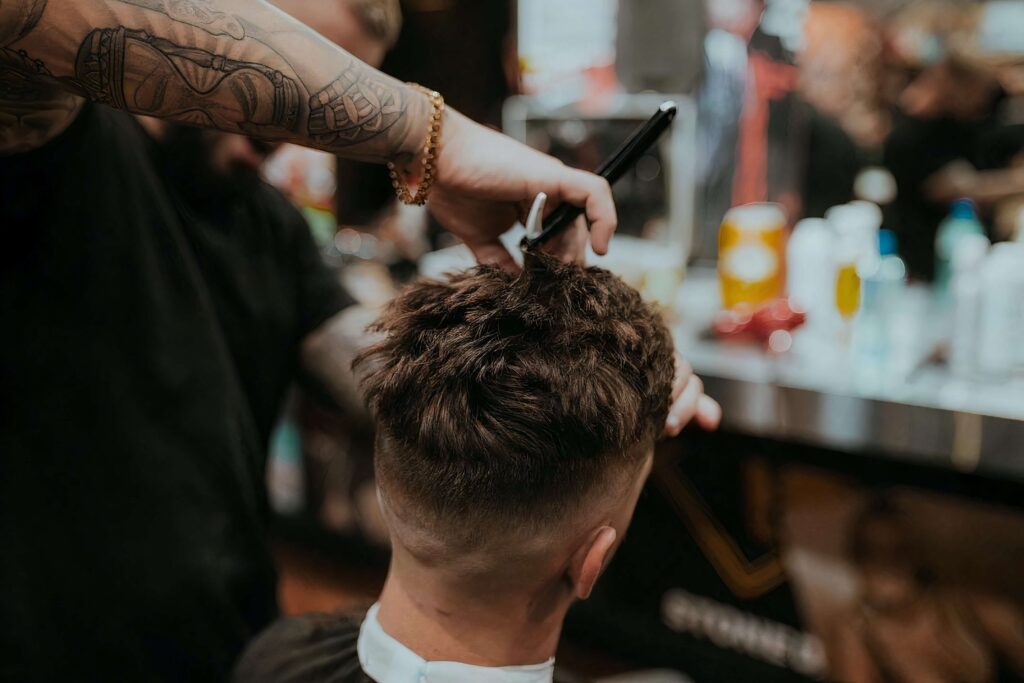 1. Empire Beauty Schools
Established in 1934, the Empire Beauty Schools ranks number 1 on our list of most outstanding and best barber schools in the US, with its headquarters in Pottsville, PA.
This great institution has an excellent record of training beauty professionals throughout the country for decades, and the institution has over 80 schools in 21 different states.
In addition, the great institution, Empire Beauty Schools, also employs well-trained industry professionals to teach a vast array of courses and professions, which greatly perfects all admitted students.
All the admitted students into this great institution can also pursue a career as a Hairstylist, Haircolor Specialist, Nail Technician, Salon Owner, Platform Artist (promotor), or a combination of all these industries to also perfect your career immensely.
Furthermore, all admitted students of the Empire institution can continue their education to become an educator in any of the above-listed fields. The school staff has an office of dedicated advisors to help find the financial aid to make a career in barbering cosmetology available to anyone interested.
2. American Barber and Beauty Academy
Located in Reading, Pennsylvania, the American Barber and Beauty Academy also got a spot on this list of best barber schools in the United States and also has a reasonable enrollment rate, with qualified staff and workers.
This institution for barbers has made a good record for successfully training many barbers and cosmetologists to be professionals in the beauty industry, and they are doing great.
In addition, the excellent barbering school, American Barber and Beauty Academy, also offers all admitted students the incredible opportunity not just to study barbering but also to enroll in cosmetology, barbering, esthetics (skincare), or a combination of these fields, which will also add significantly to their career.
You might love that all American Barber and Beauty Academy admitted students also have the excellent opportunity to continue their education to become certified cosmetology instructors or barbering.
The schedules for classes in this institution are on weekdays or weeknights, with some Saturdays. All admitted students could also fit their barbering education into their daily work life.
Another great thing about this institution is that all programs offered are nationally accredited and affordable with several financial aid packages. Students are offered a computer to use throughout their program and might receive help with job placement upon graduation.
3. Spa Tech Institute
Ranking number 3 on our list of best barbering schools in the USA is Spa Tech Institute, which has a new campus location in Westbrook/Portland, Maine, and the great institution also offers a large selection of courses and degree plans in the cosmetology arts for all admitted students to make their choices.
Furthermore, the great institution offers a barbering program that is rigorous and accredited for students who can complete it in as little as eight months and gain their certificates.
In addition, all admitted students in the institution have access to high-quality staff and participate in community outreach programs. The school also ranks best among the barber schools in the United States as it trains its students to become innovative and creative thinkers.
4. Tricoci University
Next on this list of best barber schools in the United States is the well-accredited Tricoci University of Beauty Culture, named after its founder, Mario Tricoci.
When the founder of this institution, Mario Tricoci, an Italian-born award-winning hairdresser, started his Tricoci University, his vision was to put professionalism first in the world of cosmetology. He also did his best to achieve that, as the great institution currently has 15 different campuses, primarily in Illinois, with 4 in Indiana and 1 in Wisconsin.
In addition, each school offers a quality and unique curriculum in barbering, cosmetology, esthetics, nail technology, and education that completely fits with Mario Tricoci's high standards of professionalism and offers all admitted students the best education desired.
It might interest you that programs offered in this institution promise all their admitted students to help graduates find a good/better job in the industry. The resources this institution offers make it unique from other barbering institutions in the US.
5. American College of Barbering
Ranking number 5 on this list of the most outstanding, unique, and best barbering schools in the United States is the American College of Barbering, located in Louisville, Kentucky, and Northern Kentucky.
Since 2008, this great institution has focused on its primary aim, the barbering arts, and all admitted students will learn the fine arts of trimming, cutting, fading, and beard treatment. Straight razor shaving makes them more professional in that field.
At the institution, practice is the key to success. Both schools offer full-service barber shops, which are open to the public at a perfect and affordable rate so that students thoroughly learn how to cut, groom, and work perfectly with all clients throughout their educational experience, and this also perfects them greatly after graduation to work with experience and confidence.
You might love to know that all American College of Barbering instructors are professional and educated barbers with decades of experience in the industry and are willing to train students as well.
6. Aveda Institutes
Another great barbering institution that is doing great in America is the Aveda Institutes, known to have over 50 locations throughout the USA. And the school prides itself on being an industry-leading and professional barber and cosmetology school in the country, with professionals and well-equipped learning facilities.
This institution has its headquarters in Blaine, Minnesota, and the school is best known for its high-quality hair, skin, and body products. Still, their quality standard also extends to its institutes, as they offer all students a quality education, making them rank among the best barbering schools in the United States of America.
The Aveda Institute was established In 1977 and aimed to offer an eco-conscious and wellness-oriented alternative to standard beauty schools. All the admitted students can also choose to enroll in cosmetology or massage therapy.
In addition, each program offered at Aveda is meaningful and worth studying. Also, the school graduates have blossomed into highly sought-after professionals.
7. Paul Mitchell Schools
The Paul Mitchell School is one of the most outstanding barbering schools in the United States, and this school has over 10,000 graduates each year through one of its six different accredited programs.
Furthermore, at the school, a student is free to study barbering, cosmetology, esthetics, nails, makeup, or education. Towards the end of the program, students gain powerful, real-world experience and strong references before moving into their field.
All admitted students pursuing a career in barbering would learn and practice all foundational and essential skills throughout their program.
8. Central Oklahoma College
Suppose you want to study barbering courses in the United States of America's best and most unique barbering schools. In that case, you can try applying for Central Oklahoma College, as it also ranks as one of the best barbering schools in the US and is located in Oklahoma City. 
The school offers various degree plans in cosmetology and the medical sciences, which have been helpful to its students.
Furthermore, the programs offered at Central Oklahoma college include cosmetology, esthetics, massage, and barbering. The institution has a large facility that offers clinics, labs, full-service salons, and a dozen fully-equipped massage therapy rooms.
You may love knowing that all admitted students in this institution are given the excellent opportunity to take courses in several fields or follow a predetermined track.
Frequently Asked Questions on Best Barber Schools in the US
How Long Does it Take to Become a Qualified Barber?
How long or duration it will take to study barbering courses in any of the above best barber schools in the United States (US) depends on the school and how fast you learn. 
However, the average duration to complete a barber course in the US is about 10 – 12 months, while others could be more. 
Is Being a Barber Worth it?
As I stated above, a barbering job is a unique job that doesn't have seasons, just like some businesses have seasons when they boom greatly and seasons when they don't. 
However, you always work in barbering because people style and cut their hair more often to look good.
Most people cut their hair every two weeks, another a week or so, which keeps a barber busy always. 
In addition, when you are good with your barbering skills and have passion, people will be attracted to your shop, and you will make great earnings and build a promising future. 
Can I Learn Barbering Online?
You can also learn barbering online, but you need to join physical classes because it has more practicals. 
Is Barbering Difficult to Learn?
Nothing is difficult to learn once you have the passion. Passion for something makes learning easy and easing off difficulties. Just have passion for it, and you are good to go. 
What are the Advantages of Being a Barber?
1. You can freely express your creativity. 
2. You make your schedule. 
3. You can be your Boss after learning the skill. 
4. You make people happy with your skills and also socialize with various people.
What is a Female Barber Called?
A female barber is called a stylist or hair stylist, while a man is called a barber. 
Is Owning a Barber Shop Profitable?
Owning a barber shop is highly profitable. The average annual profit for a barber shop owner is $35,000 or more, depending on how many people know you, the position of your shop, how many barbers you employ, and how good you are. 
Conclusion
Barbering is a practical skill you can learn without education, but adding education will perfect you significantly and make you stand out and unique among others.
Author's Recommendations