We have numerous great institutions in Australia that offer veterinary science. Still, this list has the top 7 best universities in Australia that offer veterinary science courses and recorded many graduated students doing great in that field of science. 
Studying veterinary science is one of the best courses in high demand in various countries because many pet owners wouldn't watch their pets fall sick or die of illness. Just as humans suffer illness and require medical attention, which increases the high demand for medical practitioners, those who study veterinary science are also in high demand.
This course requires profound teaching with practical lessons to perfect you greatly. To achieve such, you need to enroll in a well-accredited veterinary science institution. This article offers a great list of Australia's most outstanding veterinary science universities.
What is Veterinary Science?
According to Wikipedia, Veterinary medicine is credited as the branch of medicine that deals mainly with the prevention, management, diagnosis, and treatment of certain animal diseases, disorders, and injuries in pets and animals.
In addition, this study deals with animal rearing, farming, breeding, research on nutrition and product development, and veterinary medicine, also called veterinary science. This medical specialty is mainly concerned with the prevention, control, diagnosis, and treatment of diseases that affect the proper health of all domestic and wild animals and the prevention of transmission of animal diseases to people.
In veterinary science, you learn about the various aspects of animal health just as doctors study humans and how to treat humans.
7 Best Universities In Australia That Offer Veterinary Science
As I earlier said, we have numerous great schools in Australia that offer veterinary science courses, but below listed are the top 7 best veterinary science colleges in Australia with professionals that will guide you greatly on the theory and practical aspects of the course to study.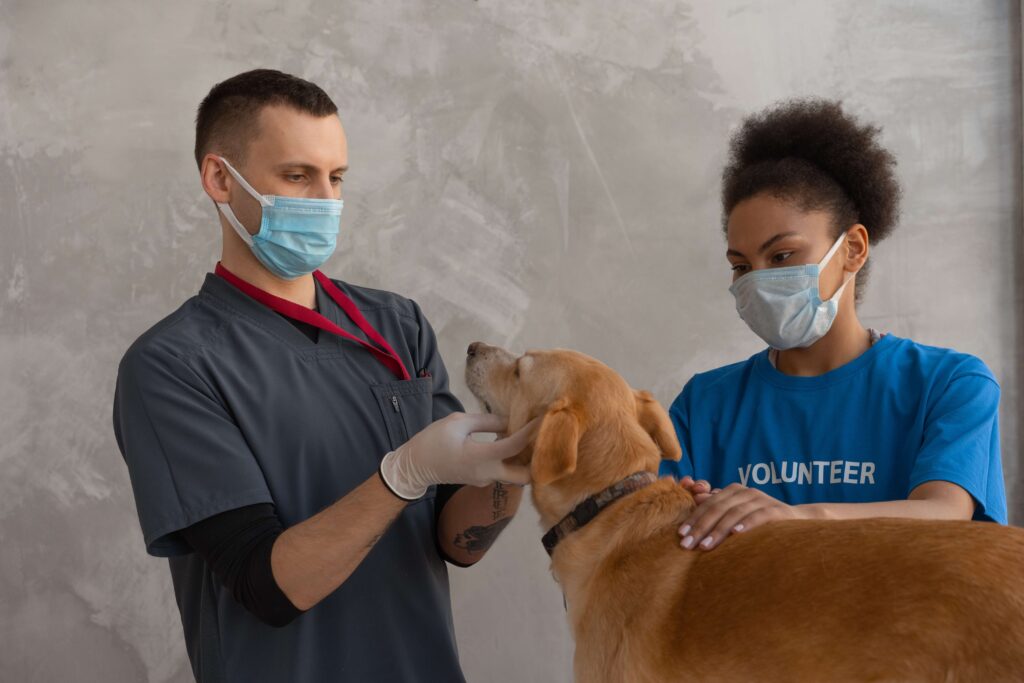 1. James Cook University (Townsville QLD)
First on our list of best veterinary science universities in Australia is James Cook University, known as a public university in North Queensland, Australia.
This institution is recorded as the second oldest university in Queensland, and JCU is a teaching and research institution with a reasonable admission rate and tuition fee. The institution's main campuses are located in the tropical cities of Cairns and Townsville.
You might love to know that the JCU Veterinary Science is a leader in animal science and veterinary practice, and the institution's school of veterinary science ranks number 1 in Australia for skills development, learner engagement, and full-time employment.
As a graduate of this great institution, you'll be equipped to tackle the challenges of a career in veterinary science. The school's students receive a world-class education, with hands-on learning from skilled lecturers.
Furthermore, as an admitted student in this institution, you will have the privilege or opportunity to gain practical skills within JCU Vet, the university's veterinary practice and teaching hospital.
Lastly, as an admitted student in this great institution, you will also participate in some unique placements and professional work experience, which includes working at Fletcherview Research Station, JCU's own cattle station east of Townsville.
Study at James Cook University to become a professional vet who makes a difference with a JCU Veterinary degree.
2. Charles Sturt University (Wagga Wagga NSW)
The next institution that ranks high in our list of best universities in Australia that offer veterinary science courses is the Charles Sturt University, an Australian multi-campus public university located in New South Wales, Australian Capital Territory, and Victoria.
This great institution was founded in 1989 and was named in honor of popular Captain Charles Napier Sturt, a British explorer who made expeditions into regional New South Wales and South Australia.
The Charles Sturt University animal and veterinary sciences are one of the best schools in Australia that perfects this course. Its graduates are distinguished by a passion for animals and animal welfare allied to the latest scientific knowledge and practical experience in the world-class learning facilities.
In addition, when you graduate from one of the school's courses, you'll be in high demand because the school has made an excellent name for itself by graduating a good number of students that are doing great in society, which gave this school a spot among the best veterinary science universities in Australia.
3. Murdoch University (Perth, WA)
Established in 1973, Murdoch University accepted its first undergraduate students in 1975. This school has made a name for itself as one of the best schools in Australia and ranks among the best veterinary science universities in Australia.
The institution is a public university located in Perth, Western Australia, with various great campuses in Singapore and Dubai.
Murdoch University has graduated an astonishing number of vet students. The school engages with industry and community to train their practitioners of the future, deliver research with significant impact and purpose, and advance excellence in veterinary science.
In addition, the school has a vision of integrity and excellence, and all staff and admitted students passionately promote the good health, welfare, and productivity of all pets and animals, big and small.
4. University of Queensland
Established in 1909 by the Queensland parliament, the University of Queensland is also a great public research university located primarily in Brisbane, the capital city of the Australian state of Queensland.
Furthermore, this school is one of the six sandstone universities, an informal designation of the oldest university in each state. It offers excellent courses, including veterinary science courses. It also got a spot in our list of best colleges that offer veterinary science courses, with many vet graduates.
The institution is also an internationally accredited School with award-winning staff and first-rate facilities. They attract highly committed students from various backgrounds who form life-long bonds and are willing to contribute successfully to veterinary science and the wider community.
5. University of Adelaide
Established in 1874, the University of Adelaide is one of Australia's best public research schools. And it is located in Adelaide, South Australia, with significant building structures and well-established learning environments.
This school got a spot in our list of top 7 Best Universities In Australia That Offer Veterinary Science because its school of Animal and Veterinary Sciences offers world-class, hands-on education and training to future animal and veterinary scientists. 
In addition, the institution is recognized as a home to South Australia's only veterinary school and veterinary teaching hospital, as they offer degrees in veterinary medicine, veterinary technology, animal science, and animal behavior.
6. University of Sydney
Ranking 6th on our list of Best Universities In Australia that offer Veterinary Science courses is the University of Sydney, also credited as one of the most prominent known public research universities, and it is located in Sydney, Australia. 
Established in 1850 as Australia's first university, it is regarded as one of the world's leading universities and one of Australia's six sandstone universities.
Lastly, the Sydney School of Veterinary Science ranked 22nd worldwide for veterinary science. 
7. University of Melbourne
Established in 1853, the University of Melbourne is another prominent public research university in Melbourne, Australia. And also known as Australia's second oldest university and the oldest in Victoria, with excellent courses they offer.
With many graduated vet students, this school also got a spot in our list of most outstanding Veterinary Science schools in Australia.
FAQs on Top 7 Best Universities In Australia That Offer Veterinary Science 
Is Veterinary Science and Veterinary Medicine the Same Thing?
According to some research, both veterinary science and veterinary medicine involve working with animals and coming up with possible and healthy solutions to animal health problems. 
However, specific careers in veterinary medicine focus more on hands-on animal care, while veterinary science careers mainly focus on research and instruction.
Is Veterinary a Good Career?
Veterinary is undoubtedly a great job and has an excellent career for anyone who studies the course. Vets are in high demand, and when you graduate from any of the best institutions as a veterinary scientist, you become a hot cake.
Is Veterinary in High Demand in Australia?
Veterinarians are in extremely high demand. You may love to know that Australia-wide is currently facing a shortage of veterinarians due to a large amount of quality training required to become qualified. If you can study this course immensely, you will also make it big. 
How Much Does it Cost to Study Veterinary in Australia?
The cost of studying veterinary science in Australia depends on the institution you applied for, but the general annual veterinary school tuition fee in Australia is roughly AUS$70,000. 
Conclusion
Studying veterinary science keeps you in high demand and gives you great opportunities to make a great future because this is a great career path.
However, ensure you study and get great results from well-accredited veterinary science institutions like the ones listed above. You also get the best knowledge required to perfect your passion and become a great veterinary scientist.
Author's Recommendations